Home
AAFA (American Albacore Fishing Association) is a non-profit organization representing commercial pole & line vessels. AAFA seeks to ensure responsible fishery management practices and the participation of vital fishing communities. It supports education regarding responsible fishing methods and promotes the health benefits of tuna consumption along with environmental benefits of sustainable fishery practices. AAFA strives to ensure the economic viability of pole & line fisheries now and into the future.
Video: "A Fisherman's Perspective"
2014 Board of Directors

Jack Webster
President

Bobby Blocker
Vice President

Jack Vantress
Treasurer

Eric Hopfer
Secretary
2013 Board Members
| | | | | |
| --- | --- | --- | --- | --- |
| Tim Thomas | Carl Nish | Steve Rittenberg | Paul Hill | Steve Moore |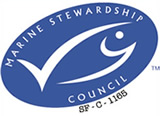 AAFA was the first MSC Certified Pole & Line Tuna Fishery
AAFA has been awarded the Marine Stewardship Council's coveted eco-label for sustainable fishing. Products from the AAFA tuna fishery may now carry the Marine Stewardship Council eco-label which will distinguish it as a certified sustainable and well-managed fishery. This is the first tuna fishery in the world to receive the accolade. (
Full Article
)
---
The American Albacore Fishing Association would like to thank the following for their continued support:
Thank you to all who presented at the 2014 AAFA General Meeting:

Bart Disher - Furuno Inc.
Mark Freeberg - Ocens
Owyn Snodgrass - NOAA
John Childers - NOAA
Chris Fanning - NMFS
Vidar Wespestad - Albacore Stock Assessment
Peter Flournoy - International Management
Larz Maloney - Pacific Seafood
Don Alber - Alber Seafoods
Mike Cornman - Westport Seafood
Sean Mason - Masco Petroleum
Paul Anderson - Pollution and P&I Insurance
Brian Corrigan - US Coast Guard
James Stellflug - US Coast Guard
Alex Tardy - NOAA-Weather Service
Steve Harrison - NOAA-Weather Service
Thank you to all who contributed to the 2014 AAFA General Meeting Raffle:

Ocean Imaging
Westport Seafood
Trident Seafood
Englund Marine
Carl Nish
Brent Bixler
Holiday Inn San Diego Bayside
Jack and Natalie Webster
Masco Petroleum
Furuno Inc.
American Tuna
Todd Roberts - Marine Group Boat Works
Paul Hill
The American Albacore Fishing Association
And thank you to all who attended the AAFA 2014 General Meeting - Best meeting yet!
---